Auction Information
Sacred Heart Jr-Sr High School
Event Tickets go on sale February 1st!
If you have any problems registering feel free to contact us at the school - 785-825-4011 or email Renee Thompson
Tickets are on sale now!
Click here to register and for more information.
Supporter Bingo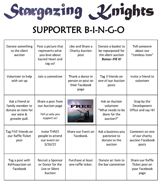 ATTENTION - Have you had the opportunity to share your time, talent, or treasure with Sacred Heart?
Because everyone loves games, we are inviting you to play SUPPORTER BINGO! Download the game board and complete each square. The first person to get a blackout will win - 2 FREE TICKETS to the AUCTION!!
The first 10 people to get a BINGO – will win 3 tickets in the Grand Cash Giveaway raffle!
We are continually blessed by all the parents, grandparents, Alumni, parish and community members who SHOW up for our students in the BIGGEST way. We're hoping this will be a fun way to give you our THANKS and to ensure this event is a success.
To print a copy – Click on the picture above to download the PDF of Supporter BINGO!!
Let the GAMES begin!